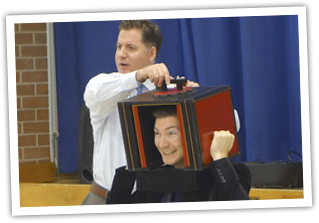 What is the program all about?
The School Heroes Unite program runs approximately an hour, and is designed to cultivate a new culture of heroism and teamwork at your school. Through the use of magic, music, video, storytelling and audience participation, School Heroes Unite will engage and captivate your students. It has all the spirit of a pep rally but provides your students with real tools and a plan of action. Together we redefine the terms "Bully" and "Hero", and after choosing the path of the hero your students create an action plan of simple and achievable ways they can be heroes' to each other. Dynamic magic effects are used throughout the program, not only to entertain your students, but reinforce Scott's messages of heroism, teamwork and belief in self. Although magic plays an important role in this program, its success is not measured in tricks, rather through the improved self-confidence of your students and their renewed commitment to working as a team. This program celebrates diversity, fosters empathy, and brings out your students' inner hero.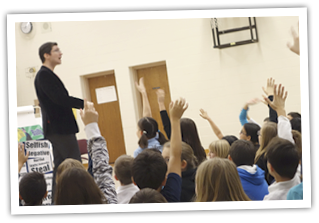 Who is the program for?
School Heroes Unite is designed to meet the needs of primary school students. As the needs of students differ depending on their age and grade level, the recommended grade breakdown is K – 4 and 5 – 8. This allows Scott to effectively communicate to students on their level.
Taking a Pro-Heroism vs Anti-Bullying Approach
The primary difference between a Pro-Heroism program versus and an Anti-Bullying program is their focus. Rather than being reactive and focusing on what we don't want (Anti), a Pro-Heroism program, like School Heroes Unite, focuses on solutions and empowerment.

Materials and Post Program Application
Promotional School Heroes Unite Poster
Prior to School Heroes Unite visiting your school, you will be emailed a promotional poster. These can be printed off and posted throughout the school to build anticipation and start the important conversation.
Your Student's Action Plan
The key to making any lasting change is action. In the program the students will develop an Action Plan of easy, impactful ways they can be a hero to their peers. They then pledge as a group to do at least 2 or 3 of these every day. It is recommended that their Action Plans be typed out and printed so they can be posted in their classrooms as a daily reminder. Positive reinforcement is the key to helping these changes take root in your students.
Souvenir School Heroes Unite Flyer
At the end of the presentation each student will receive a souvenir School Heroes Unite flyer. Inside they will find a feedback form. Filling these out in class provides teachers with a great opportunity to discuss their student's experience and what they learned. The forms are anonyms and also provide School Heroes Unite with invaluable insight into how to better meet student's needs. The flyer also includes the directions for 2 super cool magic tricks.
Scott's Book
Each school will receive a complimentary copy of Scott's inspirational children's book "I Can and I Did!". Through an uplifting story about a granddaughter and her grandfather, the value of perseverance and belief in self, take flight. "I Can and I Did!" is beautifully illustrated by Denise Garrido, Miss World Canada 2010.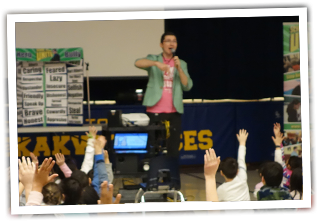 A great PRO Grant Option for your School
Ontario PRO Grants are designed to support and empower parents in identifying barriers to engagement in their communities and find local solutions to involve more parents in support of their student's achievement and well-being.
Since 2006, the government has supported over 17,000 PRO Grants to school councils and 680 regional/provincial PRO Grants. This is a total investment of over $27.5 million to help increase parent engagement at the local, regional, and provincial levels.
School Heroes Unite is the perfect blend of entertainment, empowerment and heroic education for the whole family. Designed to cultivate a new culture of heroism and teamwork at your school, together students, staff and parents will become a school of heroes, united as one.