Scott's Bio
Scott Dietrich, easily recognizable from his nightly appearances on YTV's "Big Fun Weeknights", has been voted Toronto's "Best Children's Entertainer" for six consecutive years. Scott has amazed audiences throughout Canada, USA, Ireland and Portugal, and along the way won a number of International Magic Awards. But what honor does Scott feel most privileged to receive? Smiles; something he delights in every performance.
"There's nothing quite like seeing a child's eyes light up with wonder and laughter."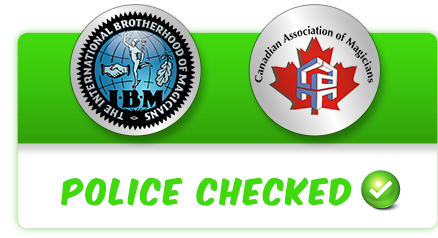 Magic was always in the cards for Scott, having been born into a family magic troupe. But this gangly young prestidigitator, eager to be accepted by his peers, was not for years. It was not until high school that he really came into his own, and found the acceptance he yearned for. The very skill that he was teased for in primary school, served as a bridge to connection in high school.
Scott never forgot the bullying he experienced as a boy, but rather than harboring resentment and cementing himself as a victim, he chose to create School Heroes Unite. His fresh new approach combats the issue of bullying with heroism, teamwork and empathy. Through this dynamic program, sprinkled with magic, students are empowered to peacefully stand up, take action and unite.
In 2014 and 2016, Mr. Dietrich's innovative work in Pro-Heroism was recognized when he was asked to be a featured speaker at "The Hero Round Table", the world's leading heroism conference. Scott was the first Canadian to be given this honor.
In October of 2012, Scott fulfilled another lifelong dream when he published his first children's book, "I Can and I Did!" In this uplifting story about a granddaughter and her grandfather, the value of perseverance and belief in self, take flight. The characters are brought to life through the beautiful illustrations of Denise Garrido, winner of all 3 grand slam Miss Canada titles. A copy of "I Can and I Did!" is donated to the library of each school Scott presents at.
Scott's Story
Scott's troubles began when he transferred schools in grade 3. He may as well have been wearing a target on his back because he was bullied mercilessly, and would often hide during recess as not to be picked on. Out of necessity Scott became an exceptional runner. He had the choice of sprinting home each night for the chance to postpone his torment another day, or submitting himself to whatever cruel punishment his bullies had in store. He chose to run, until he finally got tired of running and in one defiant moment changed everything.
This is where Scott's and all of our stories really begin. We don't choose to be bullied, although most of us have been at some point. What we can choose though is what that experience is going to mean in our lives. You are either a victim or hero in your own life. Scott chose to be a hero, and so can you. Empathy and courage now exist where there was once anger and fear. It was from this place of healing that School Heroes Unite was born.

Scott's Other School Programs Include:
School Assembly Magic Show
Scott's School Magic Show is 40 minutes of fun and hilarity! His secret ingredient is the students, who become active participants in the show. The highlight of the program comes when the students help Scott to magically produce his live bunny, Sir Walken. Other tricks include cards, ropes, rubber sharks, multiplying Angry Birds, Sponge Bob and so much more. After the show all the students are taught step by step how to perform several magic tricks, and then reminded what an amazing resource their school library is. There is much fun to be had by all. This family friendly magic show for schools is ideal for children ages 3 through 12, and can be adapted depending on grade levels and audience size.

NEW Magical and Inspirational Book Reading and Workshop by AuthorAuthor/Magician Scott Dietrich presents his new book "I Can and I Did"; a short story about a Granddaughter and her Grandfather and the importance of belief in self. As the Grandfather in the story says "Whether you think you can or whether you think you can't, you're right." After reading a section of the book aloud Scott proceeds to practically apply the principals of positive self-talk. This is accomplished by teaching your guests how to literally perform the impossible (by teaching them magic). This 40 minute presentation is not only magical and fun, it's inspiring.

Magic Class
Make your school Hogwarts for a day! Scott Dietrich has put together a unique program for your aspiring wizards and wizettes. In this 40 minute magic class students will learn numerous sleight of hand illusions using everyday items (all supplied by Scott). This allows them the ability to perform magic for their friends, anywhere at any time. The real magic is watching their smiles beam as their confidence grows. Ideal for ages 8 and up but all are welcome.